Hyundai Elantra: ESC(Electronic Stability Control) System / ESC Control Unit Repair procedures
| | |
| --- | --- |
| 1. | Turn the ignition switch OFF and then disconnect the negative (-) battery cable. |
| | |
| --- | --- |
| 2. | Pull up the lock of the HECU connector (A) , then disconnect the connector. |
3.

Remove the brake fluid from the master cylinder reservoir with a syringe.

| | |
| --- | --- |
| • | Be sure to completely remove foreign substances from around brake fluid reservoir and cap before opening the reservoir cap. If not, it may cause contamination of brake fluid and deterioration in braking performance. |

| | |
| --- | --- |
| • | Do not spill brake fluid on the vehicle, it may damage the paint; if brake fluid does contact the paint, wash it off immediately with water. |
4.

Disconnect the brake tubes from the HECU by unlocking the nuts counterclockwise with a spanner.

---

12.7 ~ 16.7 N.m (1.3 ~ 1.7 kgf.m, 9.4 ~ 12.3 lb-ft)

---

---

18.6 ~ 22.6 N.m (1.9 ~ 2.3 kgf.m. 13.7 ~ 16.6 lb-ft)

---
| | |
| --- | --- |
| 5. | Disconnect connectors and then remove the bracket. |
6.

Loosen the HECU bracket bolts (A), then remove HECU and bracket.

---

16.7 ~ 25.5 N.m (1.7 ~ 2.6 kgf.m, 12.3 ~ 18.8 lb-ft)

---
7.

Remove the 3 bolts, then remove the bracket from HECU.

---

7.8 ~ 9.8 N.m (0.8 ~ 1.0 kgf.m, 5.8 ~ 7.2 lb-ft)

---
| | |
| --- | --- |
| 1. | To install, reverse the removal procedure. |
| | |
| --- | --- |
| 2. | Tighten the HECU mounting bolts and nuts to the specified torque. |
3.

After installation, bleed the brake system.

(Refer to ESP(Electronic Stability Program) System - "ESP System Bleeding")
| | |
| --- | --- |
| 4. | Conduct the Variant coding. |
| | |
| --- | --- |
| 5. | Conduct the Auto Detected Sensor Calibration. |
| | |
| --- | --- |
| 6. | Conduct the Longitudinal G Sensor Calibration. |
Diagnosis procedure by using diagnostic device
As manual for diagnosis methods by using diagnosis device, the main contents are as follows:
Connect self-diagnosis connector(16pins) located in the lower of driver side crash pad to self-diagnosis device, and then turn the self-diagnosis device after key is ON.
Select the "vehicle model" and "ABS/ESC" on GDS vehicle selection screen, then select OK.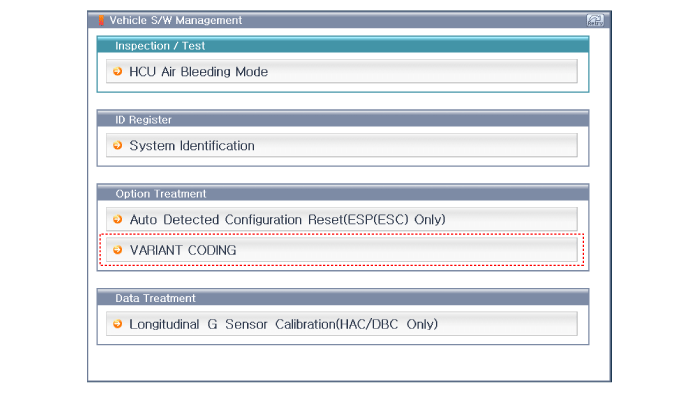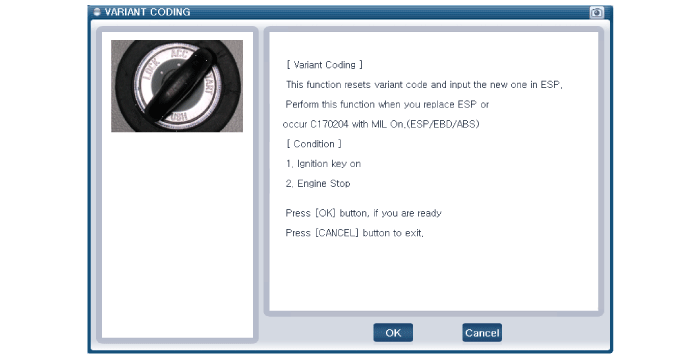 [Auto Detected Sensor Calibration]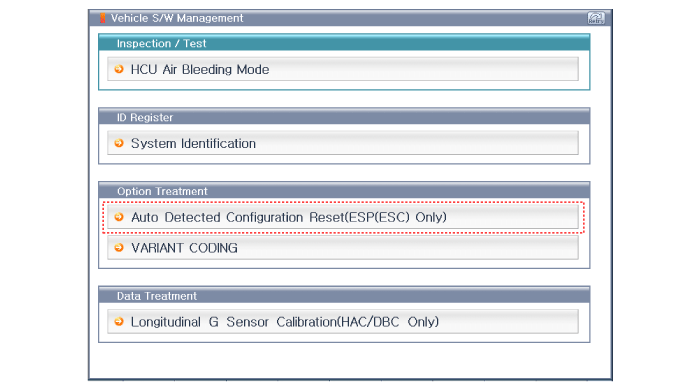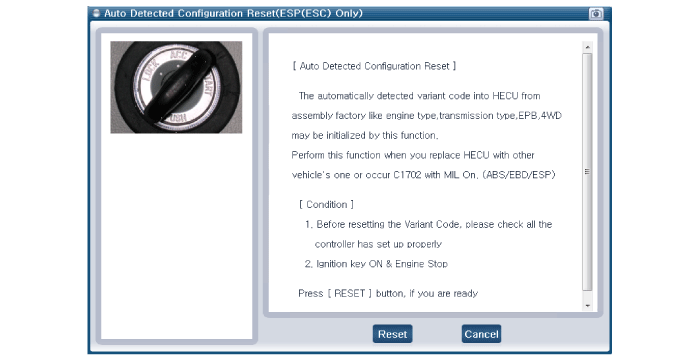 [Longitudinal G Sensor Calibration]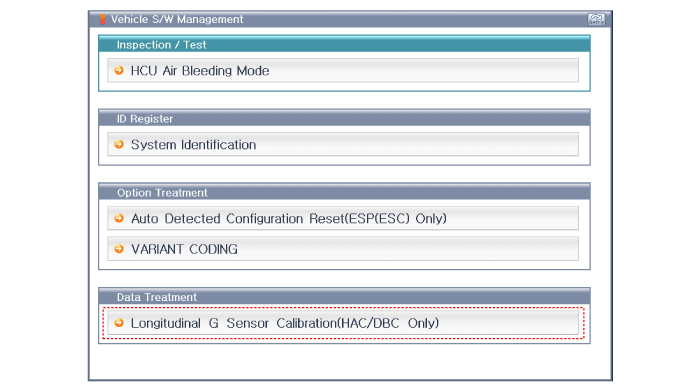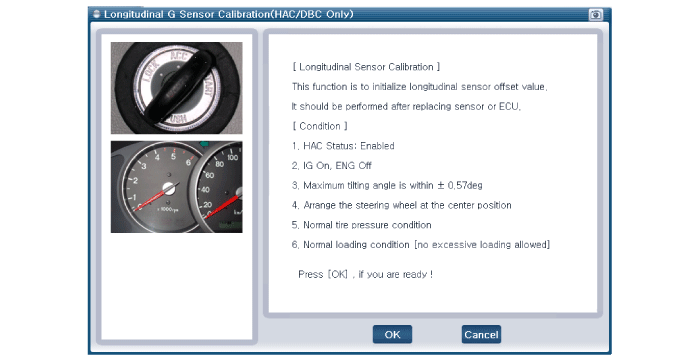 Components 1. Front - right tube2. Rear - left tube3. Rear - right tube4. Front - left tube5. MC SEC 6. MC PRI7. ESC control module(HECU)8. Bracket ...
Description 1. The ESC OFF switch is for the user to turn off the ESP system. 2. The ESC OFF lamp is on when ESP OFF switch is engaged. ...
Other information:
Hyundai Elantra AD (2016-2020) Service Manual: Troubleshooting
Troubleshooting Error ItemFailure symptomInspection items Detailed inspections Relevant Parts/ComponentsScreen displayTFT-LCD screen does not turn on 1. Connector attachments 2. Components 1. Check the connector attachments 2. Check B+, IGN and GND wiring 3. Check the componen ...
Hyundai Elantra AD (2016-2020) Service Manual: Sunroof Sunshade Repair procedures
Replacement 1. Remove the sunroof assembly. (Refer to Sunroof - "Sunroof Assembly") 2. After loosening the mounting screws, remove the drip rail assembly (A). 3. After loosening the mounting screws, disengage the rear drip (A). 4. Remove the stopper (A) by pushing it in the directi ...