Hyundai Elantra: Exhaust Emission Control System / Catalytic Converter Description and Operation
The catalytic converter of the gasoline engine is a three way catalyst. It oxidizes carbon monoxide and hydrocarbons (HC), and separates oxygen from the oxides of nitrogen (NOx).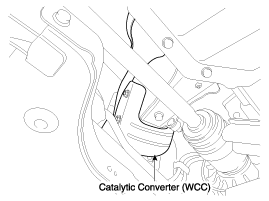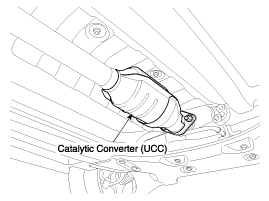 Description Exhaust emissions (CO, HC, NOx) are controlled by a combination of engine modifications and the addition of special control components. Modifications to the combustion chamber, int ...
Description Continuous Variable Valve Timing (CVVT) system advances or retards the valve timing of the intake and exhaust valve in accordance with the ECM control signal which is calculated by ...
Other information:
Hyundai Elantra AD (2016-2020) Owners Manual: Starting the engine
WARNING Always wear appropriate shoes when operating your vehicle. Unsuitable shoes, such as high heels, ski boots, sandals, flip-flops, etc., may interfere with your ability to use the brake and accelerator pedals. Do not start the vehicle with the accelerator pedal depressed. The vehic ...
Hyundai Elantra AD (2016-2020) Service Manual: Repair procedures
Inspection 1. After disconnecting the vapor hose from the PCV valve, remove the PCV valve. 2. Reconnect the PCV valve to the vapor hose. 3. Run the engine at idle, then put a finger over the open end of the PCV valve and make sure that intake manifold vacuum can be felt. &nbsp ...
© 2018-2023 www.helantraad.com