Hyundai Elantra: Exhaust Emission Control System / Catalytic Converter Description and Operation
The catalytic converter of the gasoline engine is a three way catalyst. It oxidizes carbon monoxide and hydrocarbons (HC), and separates oxygen from the oxides of nitrogen (NOx).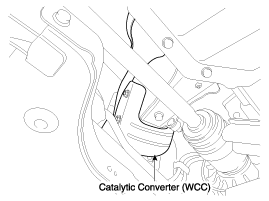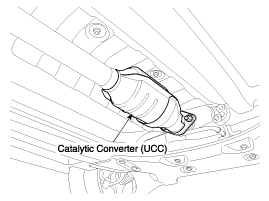 Description Exhaust emissions (CO, HC, NOx) are controlled by a combination of engine modifications and the addition of special control components. Modifications to the combustion chamber, int ...
Description Continuous Variable Valve Timing (CVVT) system advances or retards the valve timing of the intake and exhaust valve in accordance with the ECM control signal which is calculated by ...
Other information:
Hyundai Elantra AD (2016-2020) Owners Manual: Armrest
The armrest is located in the center of the rear seat. Pull the armrest down by using the strap from the seatback to use it. If your car is not equipped with a rear armrest, the rear cup holders are located at the back of the center console. CAUTION Be careful when loading cargo through ...
Hyundai Elantra AD (2016-2020) Service Manual: Specifications
Specification Air Conditioner ItemSpecificationCompressorType6VSe14Oil type & CapacityFD46XG (IDEMITSU) 110 ± 10 g (3.88 ± 0.35 oz.)Pulley type6PK-TYPEDisplacement142 cc/revExpansion valveTypeBlock typeRefrigerantTypeR-134aCapacity500 ± 25 g (17.6 ± 0.88 oz.) Blower Unit ItemSpecific ...
© 2018-2021 www.helantraad.com