Hyundai Elantra: Audio / Audio Unit Components and Components Location
[TFT Type]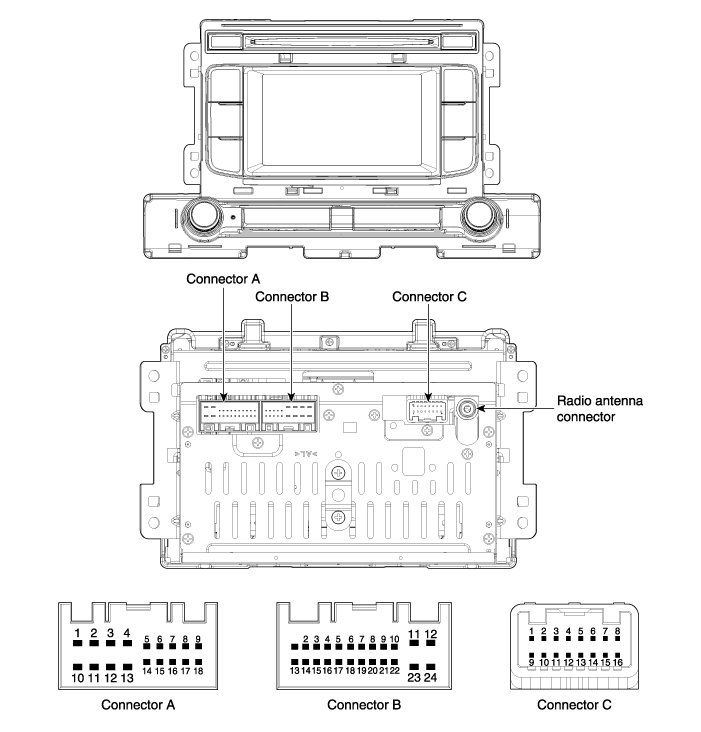 Connector Pin Information
No




Connector A




Connector B




Connector C




1




Rear left speaker (+)




Can (High)




-




2




Front left speaker (+)




-




-




3




Front right speaker (+)




-




Camera GND




4




Rear right speaker (+)




Steering wheel remote




Camera video input




5




-




-




-




6




-




USB D (+)




-




7




-




USB VDD




-




8




Illumination (+)




AUX Right input




-




9




Detent




AUX GND




-




10




Rear left speaker (-)




Mic (+) (Bluetooth)




Camera power (+)




11




Front left speaker (-)




ACC




Camera GND (-)




12




Front right speaker (-)




B+




-




13




Rear right speaker (-)




Can (Low)




-




14




-




-




-




15




-




-




-




16




-




Vehicle Speed




-




17




Illumination (-)




Steering wheel remote GND






18




Remote antenna




USB D (-)




19






USB GND




20




AUX DETECT




21




AUX Left input




22




Mic (-) (Bluetooth)




23




-




24




GND



[MONO Type]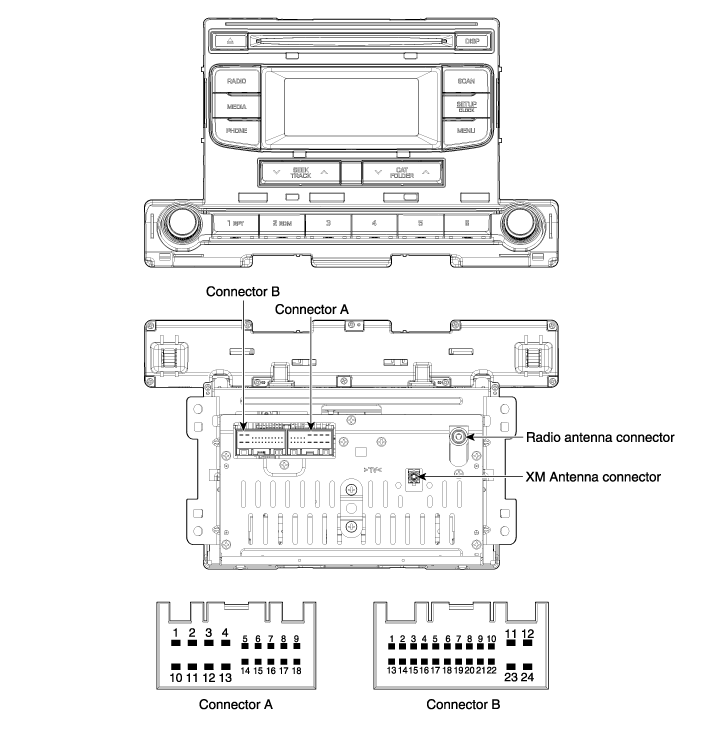 Connector Pin Information
No




Connector A




Connector B




1




Rear left speaker (+)




CAN High




2




Front left speaker (+)




-




3




Front right speaker (+)




-




4




Rear right speaker (+)




Steering wheel remote




5




-




-




6




-




USB D (+)




7




-




USB VDD




8




Illumination (+)




AUX Right input




9




-




AUX GND




10




Rear left speaker (-)




Mic (+) (Bluetooth)




11




Front left speaker (-)




ACC




12




Front right speaker (-)




B+




13




Rear right speaker (-)




CAN Low




14




-




-




15




-




-




16




-




Vehicle Speed




17




Illumination (-)




Steering wheel remote GND




18




Remote antenna




USB D (-)




19






USB GND




20




AUX DETECT




21




AUX Left input




22




Mic (-) (Bluetooth)




23




-




24




GND



[Display Audio]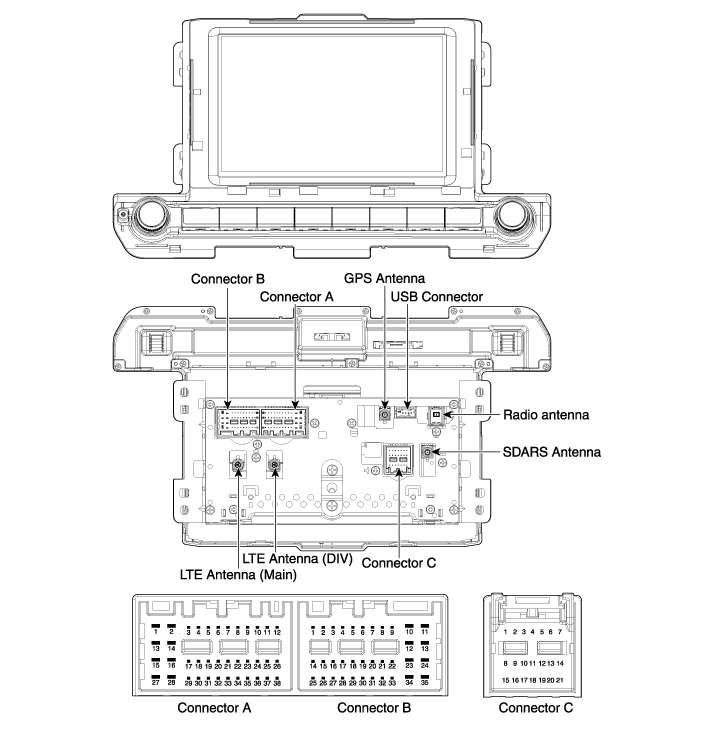 Connector Pin Information
No




Connector A




Connector B




Connector C




1




Rear left speaker (+)




-




Body can (+)




2




Rear left speaker (-)




Mic (+) B/T




Chassis can(+)




3




-




-




-




4




-




-




-




5




-




Antenna remote




-




6




Camera power




Illumination (+)




-




7




Camera video (Y)




MM Can (+)




-




8




-




-




Body can (-)




9




-




-




Chassis can (-)




10




AUX R




Battery (+)




-




11




AUX Detect




Battery (+)




-




12




Steering wheel remote




GND




-




13




Front left speaker (+)




GND




-




14




Front left speaker (-)




Mic GND




-




15




Front right speaker (-)




Mic (-) B/T




-




16




Front right speaker (+)




-




MTS Key input




17




-




-




-




18




-




-




-




19




-




Illumination (-)




-




20




Camera GND




MM Can (-)




-




21




Camera video GND




Camera video (Y) GND




-






22




-




ACC




23




-




-




24




AUX L




-




25




AUX GND




-




26




Steering wheel remote GND




-




27




Rear right (-)




-




28




Rear right (+)




-




29




-




-




30




-




-




31




-




-




32




-




-




33




-




IGN 1




34




-




-




35




-




-




36




-






37




-




38




Speed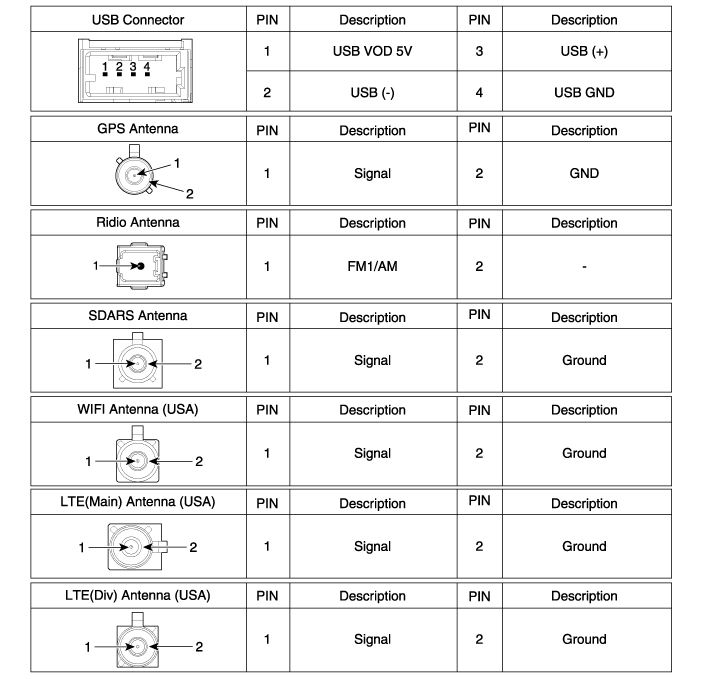 Component Location 1. Audio unit2. Feeder cable joint connector3. Center speaker4. Glass antenna amplifier5. Front door speaker6. Rear door speaker7. Sub woofer speaker8. Antenna feeder cable9. T ...
Removal 1. Disconnect the negative (-) battery terminal. 2. Remove the center fascia panal. (Refer to Body - "Center Fascia Panal") 3. Remove the audio head unit (A) after loosening the s ...
Other information:
Hyundai Elantra AD (2016-2020) Owners Manual: Mode selection
The mode selection knob controls the direction of the air flow through the ventilation system. Air can be directed to the floor, dashboard outlets, or windshield. Five symbols are used to represent Face, Bi-Level, Floor, Floor-Defrost and Defrost air position. Face-Level (B, D) Air flow i ...
Hyundai Elantra AD (2016-2020) Service Manual: Rear Glass Defogger Switch Repair procedures
Inspection 1. The body electrocal system can be quickly diagnosed failed parts with vehicle diagnostic system(GDS). The diagnostic system(GDS) provides the following information. (1) Self diagnosis : Checking the failure code (DTC) and display (2) Current data : Checking the system input/ ...