Hyundai Elantra: Audio / Audio Unit Components and Components Location
[TFT Type]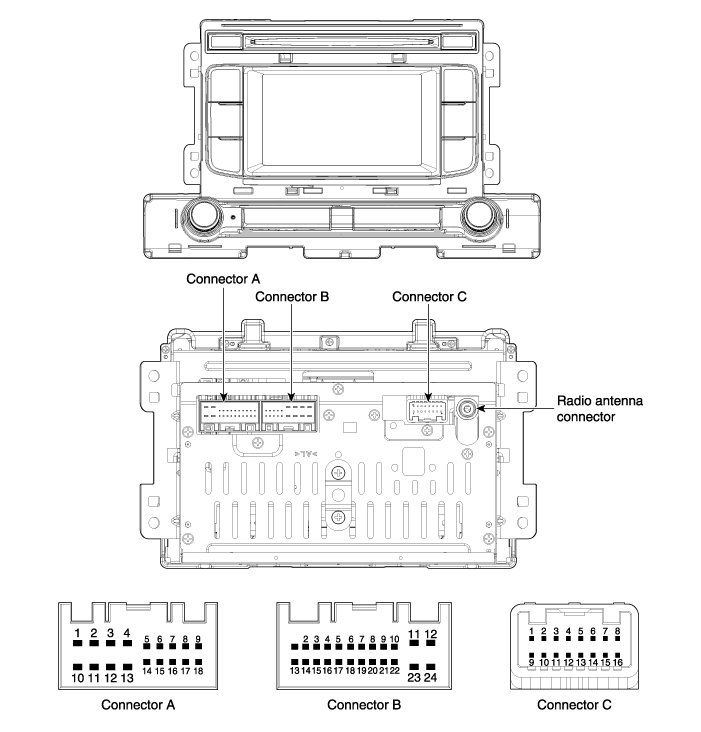 Connector Pin Information
No




Connector A




Connector B




Connector C




1




Rear left speaker (+)




Can (High)




-




2




Front left speaker (+)




-




-




3




Front right speaker (+)




-




Camera GND




4




Rear right speaker (+)




Steering wheel remote




Camera video input




5




-




-




-




6




-




USB D (+)




-




7




-




USB VDD




-




8




Illumination (+)




AUX Right input




-




9




Detent




AUX GND




-




10




Rear left speaker (-)




Mic (+) (Bluetooth)




Camera power (+)




11




Front left speaker (-)




ACC




Camera GND (-)




12




Front right speaker (-)




B+




-




13




Rear right speaker (-)




Can (Low)




-




14




-




-




-




15




-




-




-




16




-




Vehicle Speed




-




17




Illumination (-)




Steering wheel remote GND






18




Remote antenna




USB D (-)




19






USB GND




20




AUX DETECT




21




AUX Left input




22




Mic (-) (Bluetooth)




23




-




24




GND



[MONO Type]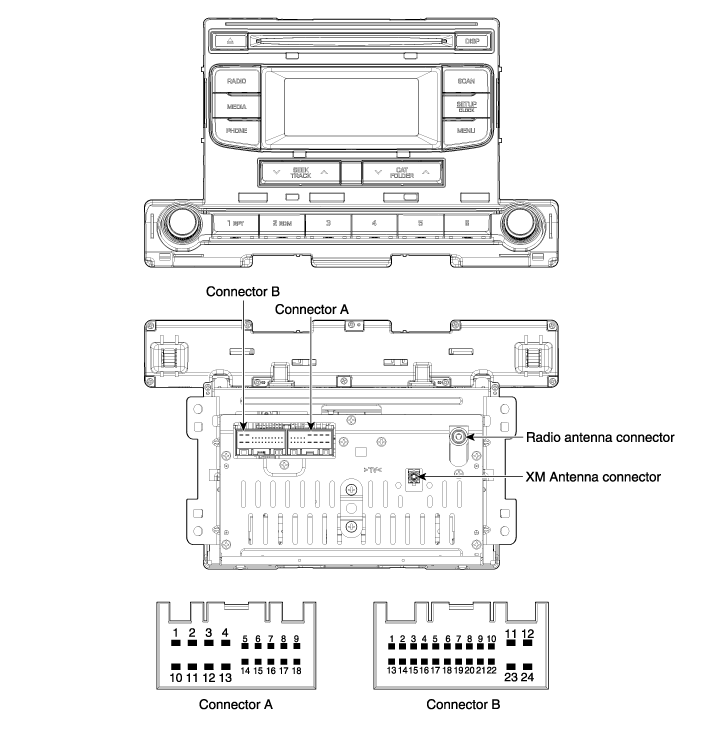 Connector Pin Information
No




Connector A




Connector B




1




Rear left speaker (+)




CAN High




2




Front left speaker (+)




-




3




Front right speaker (+)




-




4




Rear right speaker (+)




Steering wheel remote




5




-




-




6




-




USB D (+)




7




-




USB VDD




8




Illumination (+)




AUX Right input




9




-




AUX GND




10




Rear left speaker (-)




Mic (+) (Bluetooth)




11




Front left speaker (-)




ACC




12




Front right speaker (-)




B+




13




Rear right speaker (-)




CAN Low




14




-




-




15




-




-




16




-




Vehicle Speed




17




Illumination (-)




Steering wheel remote GND




18




Remote antenna




USB D (-)




19






USB GND




20




AUX DETECT




21




AUX Left input




22




Mic (-) (Bluetooth)




23




-




24




GND



[Display Audio]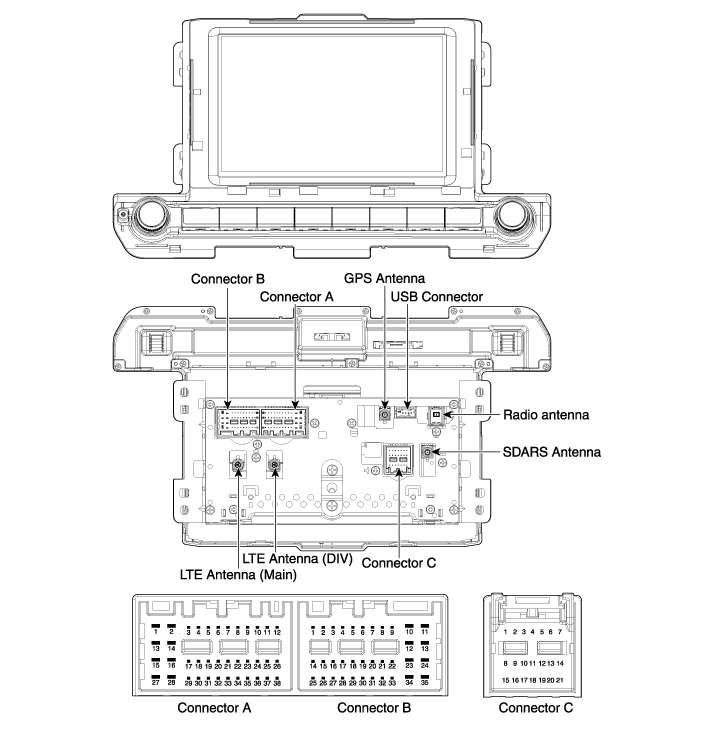 Connector Pin Information
No




Connector A




Connector B




Connector C




1




Rear left speaker (+)




-




Body can (+)




2




Rear left speaker (-)




Mic (+) B/T




Chassis can(+)




3




-




-




-




4




-




-




-




5




-




Antenna remote




-




6




Camera power




Illumination (+)




-




7




Camera video (Y)




MM Can (+)




-




8




-




-




Body can (-)




9




-




-




Chassis can (-)




10




AUX R




Battery (+)




-




11




AUX Detect




Battery (+)




-




12




Steering wheel remote




GND




-




13




Front left speaker (+)




GND




-




14




Front left speaker (-)




Mic GND




-




15




Front right speaker (-)




Mic (-) B/T




-




16




Front right speaker (+)




-




MTS Key input




17




-




-




-




18




-




-




-




19




-




Illumination (-)




-




20




Camera GND




MM Can (-)




-




21




Camera video GND




Camera video (Y) GND




-






22




-




ACC




23




-




-




24




AUX L




-




25




AUX GND




-




26




Steering wheel remote GND




-




27




Rear right (-)




-




28




Rear right (+)




-




29




-




-




30




-




-




31




-




-




32




-




-




33




-




IGN 1




34




-




-




35




-




-




36




-






37




-




38




Speed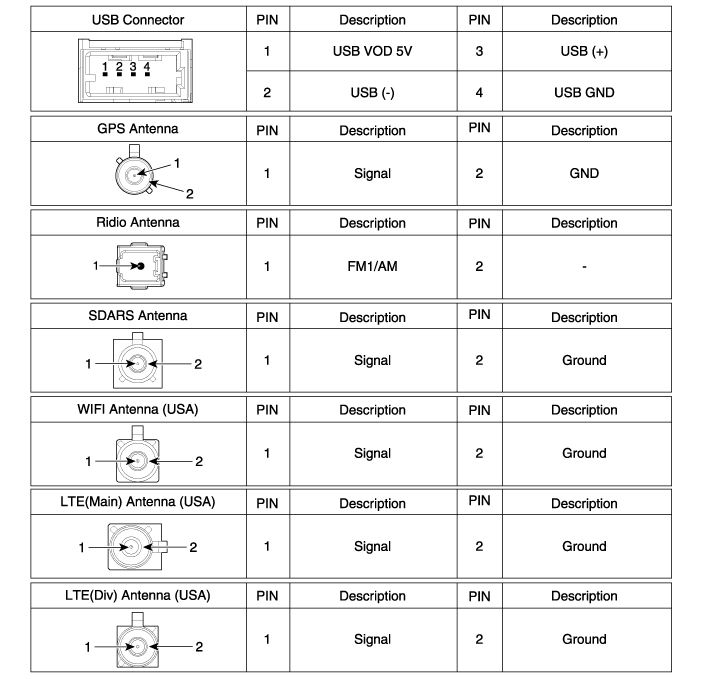 Component Location 1. Audio unit2. Feeder cable joint connector3. Center speaker4. Glass antenna amplifier5. Front door speaker6. Rear door speaker7. Sub woofer speaker8. Antenna feeder cable9. T ...
Removal 1. Disconnect the negative (-) battery terminal. 2. Remove the center fascia panal. (Refer to Body - "Center Fascia Panal") 3. Remove the audio head unit (A) after loosening the s ...
Other information:
Hyundai Elantra AD (2016-2020) Owners Manual: Distributing the sealant
9. Immediately drive approximately 7~10 km (4~6 miles or, about 10min) to evenly distribute the sealant in the tire. Do not exceed a speed of 80 km/h (50 mph). If possible, do not fall below a speed of 20 km/h (12 mph). While driving, if you experience any unusual vibration, ride disturbance ...
Hyundai Elantra AD (2016-2020) Owners Manual: Parking
Always come to a complete stop and continue to depress the brake pedal. Move the shift lever into the P (Park) position, apply the parking brake, and place the ignition switch in the LOCK/OFF position. Take the Key with you when exiting the vehicle. WARNING When you stay in the vehicle wi ...