Hyundai Elantra: Cruise Control System / Troubleshooting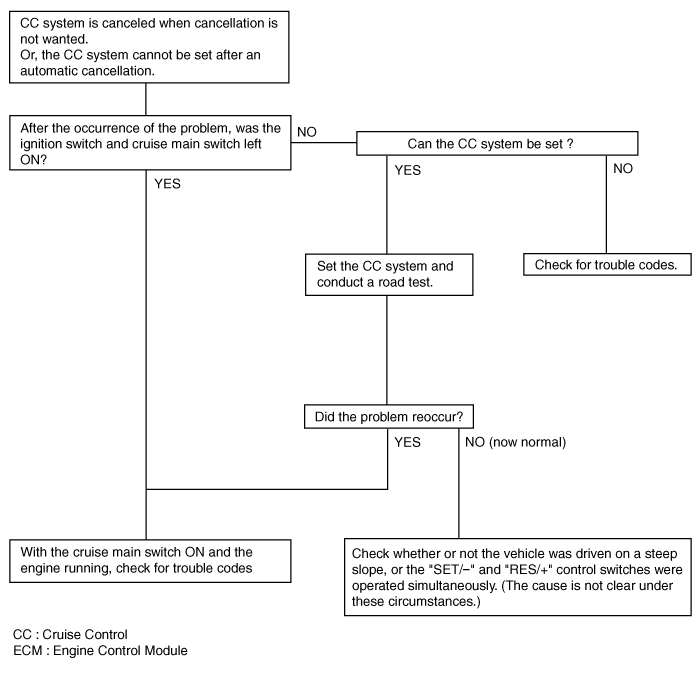 Trouble Symptom 2
Trouble symptom




Probable cause




Remedy




The set vehicle speed varies greatly upward or downward




"Surging" (repeated alternating acceleration and deceleration) occurs after setting




Malfunction of the vehicle speed sensor circuit




Repair the vehicle speed sensor system, or replace the part




Malfunction of ECM




Check input and output signals at ECM



Trouble Symptom 3
Trouble symptom




Probable cause




Remedy




The CC system is not canceled when the brake pedal is depressed




Damaged or disconnected wiring of the brake pedal switch




Repair the harness or replace the brake pedal switch




Malfunction of the ECM signals




Check input and output signals at ECM



Trouble Symptom 4
Trouble symptom




Probable cause




Remedy




The CC system is not canceled when the shift lever is moved to the "N" position (It is canceled, however, when the brake pedal is depressed)




Damaged or disconnected wiring of inhibitor switch input circuit




Repair the harness or repair or replace the inhibitor switch




Improper adjustment of inhibitor switch




Malfunction of the ECM signals




Check input and output signals at ECM



Trouble Symptom 5
Trouble symptom




Probable cause




Remedy




Cannot decelerate (coast) by using the "SET/–" switch




Temporary damaged or disconnected wiring of "SET/–" switch input circuit




Repair the harness or replace the "SET/–" switch




Malfunction of the ECM signals




Check input and output signals at ECM



Trouble Symptom 6
Trouble symptom




Probable cause




Remedy




Cannot accelerate or resume speed by using the "RES/+" switch




Damaged or disconnected wiring, or short circuit, or "RES/+" switch input circuit




Repair the harness or replace the "RES/+" switch




Malfunction of the ECM signals




Check input and output signals at ECM



Trouble Symptom 7
Trouble symptom




Probable cause




Remedy




CC system can be set while driving at a vehicle speed of less than 40km/h (25mph), or there is no automatic cancellation at that speed




Malfunction of the vehicle-speed sensor circuit




Repair the vehicle speed sensor system, or replace the part




Malfunction of the ECM signals




Check input and output signals at ECM



Trouble Symptom 8
Trouble symptom




Probable cause




Remedy




The cruise main switch indicator lamp does not illuminate (although CC system is normal)




Damaged or disconnected bulb of cruise main switch indicator lamp




Repair the harness or replace the part.




Harness damaged or disconnected



System Block Diagram Component Parts And Function Outline Component partFunctionVehicle-speed sensor, ESP/ABS Control ModuleConverts vehicle speed to pulse.ECMReceives signals from sensor and cont ...
Components 1. Remote control switch (LH)2. Remote control switch (RH) ...
Other information:
Hyundai Elantra AD (2016-2020) Owners Manual: FCA Warning Message and Brake Control
FCA produces warning messages, warning alarms, and emergency braking based on the level of risk of a frontal collision, such as when a vehicle ahead suddenly brakes, or when the system detects that a collision with a pedestrian is imminent. Collision Warning (First warning) This warning mess ...
Hyundai Elantra AD (2016-2020) Owners Manual: ESC OFF usage
When Driving The ESC OFF mode should only be used briefly to help free the vehicle if stuck in snow or mud by temporarily stopping operation of the ESC to maintain wheel torque. To turn ESC off while driving, press the ESC OFF button while driving on a flat road surface. NOTICE To prevent da ...
© 2018-2022 www.helantraad.com