Hyundai Elantra: Evaporative Emission Control System / Description and Operation
The Evaporative Emission Control System prevents fuel vapor stored in fuel tank from vaporizing into the atmosphere. When the fuel evaporates in the fuel tank, the vapor passes through vent hoses or tubes to a canister filled with charcoal.
The canister temporarily holds the vapor in the charcoal. The ECM will control the system in order to draw the gathered vapor into the combustion chambers during certain operating conditions. Engine manifold vacuum is used to draw the vapor into intake manifold.
Evaporative System Monitoring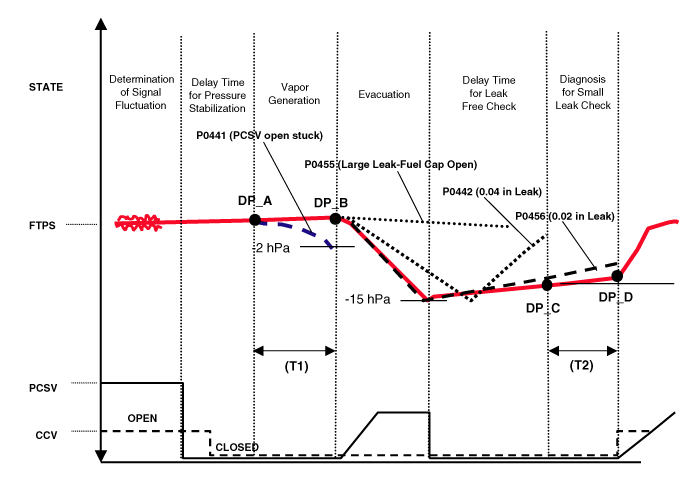 Evaporative And ORVR Emission Control System
This system consists of a fill vent valve, fuel shut-off valve, fuel cut valve (for roll over), two way valve (pressure/vacuum relief), fuel liquid/vapor separator which is installed beside the filler pipe, charcoal canister which is mounted under the rear floor LH side member and protector, tubes and miscellaneous connections.
While refueling, ambient air is drawn into the filler pipe so as not to emit fuel vapors in the air. The fuel vapor in the tank is then forced to flow into the canister via the fill vent valve. The fuel liquid/vapor separator isolates liquid fuel and passes the pure vapor to the charcoal canister.
While the engine is operating, the trapped vapor in the canister is drawn into the intake manifold and then into the engine combustion chamber. Using this purge process, the charcoal canister is purged and recovers its absorbing capability.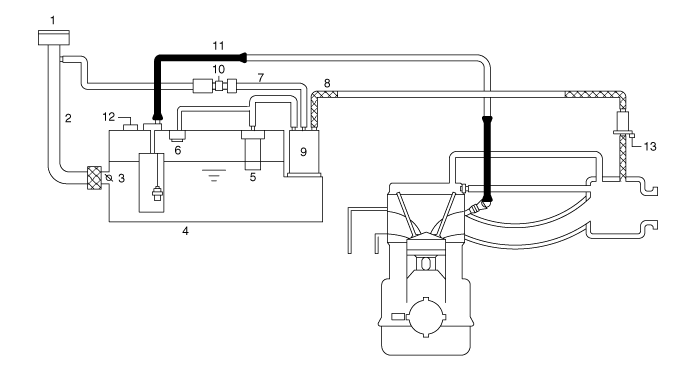 1. Fuel Filler Cap




2. Fuel Filler Pipe




3. Fuel Shut-OFF Valve




4. Fuel Tank




5. ORVR Valve




6. 2-Way & Cut Valve




7. Evaporative Hose




8. Evaporative Hose




9. Canister




10. Canister Close Valve (CCV)




11. Fuel Feed Line




12. Fuel Tank Pressure Sensor (FTPS)




13. Purge Control Solenoid Valve (PCSV)



Schematic Diagram Canister The Canister is filled with charcoal and absorbs evaporated fuel vapor from the fuel tank. The gathered fuel vapor in canister is drawn into the intake manifold by t ...
Other information:
Hyundai Elantra AD (2016-2020) Service Manual: Repair procedures
Inspection Inspecion Item • Battery efficiency inspection • Battery voltage inspection • Charging voltage insptection • General inspection • Terminal tightening state inspection • Engine/ transaxle ground state inspection • Wiring hareness g ...
Hyundai Elantra AD (2016-2020) Service Manual: Repair procedures
Replacement 1. Remove the plug hole. 2. Loosen the mounting nuts and remove the wiper arm (A). Tightening torque : 22.6 ~ 26.5 N.m (2.3 ~ 2.7 kgf.m, 16.6 ~ 19.5 lb-ft) 3. Using a screwdriver or remover, remove the cowl side cover (A). 4. Disconnect the washer nozzle (A). 5. ...