Hyundai Elantra: Valve Body System / Valve Body Description and Operation
The valve body is essential to automatic transaxle control and consists of various valves used to control the oil feed from the oil pump. Specifically, these valves consist of pressure regulator valves, oil redirection valves, shift valves, and manual valves.
The body also features electronic solenoid valves that ensure smooth gear changes.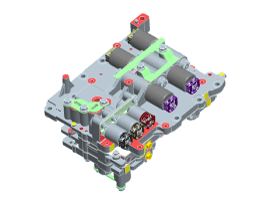 Components Location 1. Automatic transaxle2. Input/Output speed sensor3. Valve body assembly4. Solenoid valve connector module5. Valve body cover6. Gasket ...
Components Location 1. Solenoid valve support bracket2. Solenoid valve support bracket (Directly solenoid)3. Line Pressure Control Solenoid Valve4. Torque Convert Control Solenoid Valve (T/CON)5. ...
Other information:
Hyundai Elantra AD (2016-2020) Service Manual: Instrument Cluster Description and Operation
Description Communication Network Diagram AbbreviationExpalnationACUAirbag Control UnitADMAssist Door ModuleB_CANBody Controller Area NetworkBCMBody Control ModuleBSDBlind Spot DetectionC_CANChassis Controller Area NetworkCLUCluster ModuleDATCDual Automatic Temp ControlDDMDriver Door ModuleESC ...
Hyundai Elantra AD (2016-2020) Owners Manual: Side air bags
Your vehicle is equipped with a side air bag in each front seat. The purpose of the air bag is to provide the vehicle's driver and the front passenger with additional protection than that offered by the seat belt alone. The side air bags are designed to deploy during certain side impact ...
© 2018-2021 www.helantraad.com