Hyundai Elantra: Exterior Lights / Turn signals and lane change signals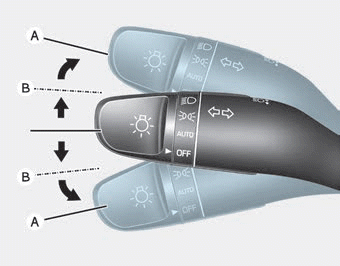 To signal a turn, push down on the lever for a left turn or up for a right turn in position (A).
If an indicator stays on and does not flash or if it flashes abnormally, one of the turn signal bulbs may be burned out and will require replacement.
Onetouch turn signal function
To activate the One Touch Turn Signal function, push the turn signal lever up or down to position (B) and then release it.
The lane change signals will blink 3, 5 or 7 times.
You can activate or deactivate the One Touch Turn Signal function or choose the number of blinking (3, 5, or 7) from the User Settings Mode (Light) on the LCD display (if equipped with supervision cluster).
For more details, refer to the "LCD Display" section in this chapter.