Hyundai Elantra: Heater / PTC Heater Description and Operation
The PTC (Positive Temperature Coefficient) heater is installed at the exit or the backside of heater core.
The PTC heater is an electric heater using a PTC element as an auxiliary heating device that supplements deficiency of interior heat source in highly effective diesel engine. The electric heater heats up the interior by directly heating the air that passes through the heater. The name itself implies that the element has a proportional resistance change sensitive to temperature.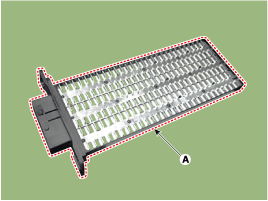 Operation Principle
ECM outputs a PTC ON signal and operates PTC relay 1. Then heater controller operates PTC relay 2 and PTC relay 3 with an interval of 15 seconds.
However, PTC relay 3 can be operated while battery voltage is above 12.4V.
Operating Condition
PTC heater operates according to the following conditions;
| | |
| --- | --- |
| • | Battery voltage: 12.4V or above |
| | |
| --- | --- |
| • | Ambient temperature and coolant temperature |
Ambient




Temperature




Coolant




Temperature




PTC




Operation




Below -20°C (-4°F)




Below 75°C (167°F)




ON




10°C (504°F)




Below 65°C (149°F)




ON




12°C (53.6°F) or above




-




OFF




-




80°C (176°F) or above




OFF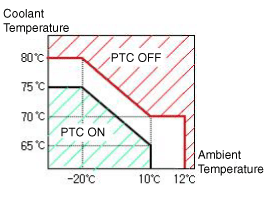 Replacement 1. Disconnect the negative (-) battery terminal. 2. Remove the heater and blower assembly. (Refer to Heater - "Heater Unit") 3. Remove the heater core cover (A) after loosen ...
Inspection Operating Logic Test (Manual only) Inspect the PTC operation by confirmation logic as follows. 1. Entering (1) Set the Floor mode and maximum heating position. (2) Turn off the ...
Other information:
Hyundai Elantra AD (2016-2020) Owners Manual: Safety Precautions
Adjusting the seats so that you are sitting in a safe, comfortable position plays an important role in driver and passenger safety together with the seat belts and air bags in an accident. WARNING Do not use a cushion that reduces friction between the seat and the passenger. The passenger ...
Hyundai Elantra AD (2016-2020) Service Manual: Specifications
Specification EngineTransaxleJoint type Max. permissible angle OuterInnerOuterInnerGAMMA 1.6 GDI6 MTBJ#23CTJ#2346.5°23°6 A/TBJ#23CTJ#22UII 1.6MT / DCT6 MTBJ#24CTJ#2446.5°23°7DCTBJ#24CTJ#24NU 2.06 MTBJ#23CTJ#2346.5°23°6 A/TBJ#23CTJ#23GAMMA 1.6 T-GDI6 MTBJ#23CTJ#2346.5°23°7DCTBJ#24CTJ#24 ...